April Recap…
April Recap…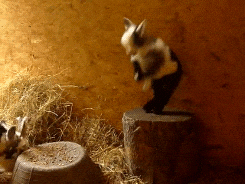 *realizes that I was supposed to be writing a post NOT looking at cute baby goat GIFS*
Anywho….
HELLO!!!! (ugh this is a ugly font let me try again…)
Hello!!!( Oh much better)
*SIDETRACKED* What was I doing???
Oh yeah…. My April recap….. so I really didn't fall of the face of the blogaspere (at least not literally) but is has been a very very very fun but busy month so I will get straight into what I did this month….
What did I do this month???? Well lets see….
SCHOOL
Math–I finished my math book and I take my exam next week…We'll see how that goes… (Update: I took my math exam and scored higher than all my other exams?! Lets just say I was NOT expecting that!)
Science –I finished my Science book AND took my exam! I passed….Glad that's over….
English–I finished my English book and will take my exam next week… (Update: It is next week and I took my English exam and passed!!! Yayyy!)
History–I finished my History book AND took my exam *easy**I love history!!*
So I pretty much start HIGH SCHOOL (high school sounds so much cooler than 9th grade doesn't it??) when my books finish getting here! I will still be homeschooled for High School *phew* I am sooo glad!!!
MUSIC
I love instrumental music so much so that's pretty much what I listened to all month…
O.oo this is going to be easier than I thought I will just give you the collection I listened to/am listening to as I type…..
Exciting things
I had my birthday on the 23rd of April!!! I turned 14….
And I ate cheesecake (which was AMAZING!!!!!) for my b-day!! I LOVE CHEESECAKE!!!!
My sisters birthday was on the 11th of April!!!
My brothers birthday was on the 24th of April!!!
So basically half of our family had birthdays in April!
I was supposed to get braces in April which I am ecstatic about….. But I didn't…. which was sad but anyway……
Quote
"My mind is like an internet browser, I have 19 tabs open, 3 are frozen, and I have no idea where the music is coming from."
Okay now for the funnest part of my whole month…. Wait for it….
.
..
.
.
.
.
.
.
.
.
.
.
.
.
.
.
.
.
.
.
.
.
.
.
.
.
..
.
.
.
We went to Vintage Market Days!!!    Get ready to be flooded with pics!!! (If you don't know what that is be sure to click on the "Vintage Market Days to see their website!!)
** In case you didn't know my family owns a soap, lotion, candle, ect company…. You can check it out here!**
Well I think that is all! We had a ton of fun at the Vintage show! There where a lot of really cool pieces of furniture and some other interesting ones…… Be sure to check out their site to see if a show might come near you guys!!!
Until I write again….
GO LOOK AT THEIR WEBSITE!